WrestleMania 31: Five Things to Know About New Champ Seth Rollins
Ray Tamarra/GC Images(NEW YORK) -- It wasn't a big name like John Cena or Brock Lesnar who walked away with the WWE Championship at WrestleMania 31 on Sunday night. It was Seth Rollins. You may have heard the young wrestler's name kicked around over the l
"The Walking Dead" Season Five Finale Recap
Gene Page/AMC(NEW YORK) -- Sunday night's season five finale of AMC's The Walking Dead was 90 minutes long and it made good use of them, with cliffhanger moments for some series favorites -- who, bucking a Walking Dead trend, managed to stay alive.Spoiler
Harvey Weinstein 'Being Investigated' After Model Files Complaint
Harvey & Georgina Weinstein. Pascal Le Segretain/Getty Images(NEW YORK) -- Movie mogul Harvey Weinstein is "being investigated" after a 22-year-old model filed a complaint with police on Friday evening, the NYPD confirms to ABC News. The unidentified
Robin Williams' Wife and Kids' Lawyers Meet in Court
Jason Kempin/Getty Images)(SAN FRANCISCO) -- Legal teams for Robin Williams' widow and for his three children appeared in a San Francisco courtroom Monday to determine who will get what of the late actor's estate.Lawyers for both parties said they hope to
Is Tracee Ellis Ross' Rainbow Pregnant on "black-ish"?
ABC/Tony Rivetti(NEW YORK) -- When black-ish returns Wednesday, Tracee Ellis Ross' character Rainbow may have a "little secret.""Dre thinks that Rainbow is pregnant," she teased on Monday's Good Morning America. "And perhaps she is, perhaps she isn't."On
Hilary Duff Explains Why She Dyed Her Hair Green
Telepictures Productions Inc.(LOS ANGELES) -- What in the world would make Hilary Duff dye her blonde tresses green?"I've never done anything like this, and I was just in Cabo [San Lucas, Mexico] with my son and I was staring at the ocean and I was like,
"The Daily Show" Names Trevor Noah as New Host
Comedy Central(NEW YORK) — The Daily Show has found their new host.South African comic and Daily Show contributor Trevor Noah will succeed Jon Stewart when he leaves the show later this year, the network announced on Twitter."It's official: we're th
It's Latin Night on "Dancing with the Stars" Monday Night
ABC(LOS ANGELES) — Monday night's edition of Dancing with the Stars should be steamy and sexy.It will be Latin Night on the ABC dance competition, with the 11 remaining couples performing dances such as the Samba, Rumba, Salsa, Argentine Tango, Paso
"Comedy Central's Roast of Justin Bieber" Airs Monday Night
Courtesy of Comedy Central(LOS ANGELES) — You've heard all about it, but now you can finally see it: Comedy Central's Roast of Justin Bieber airs Monday night at 10 p.m. ET/PT.The show features celebs like Snoop Dogg, Martha Stewart and Shaquille O'
"Empire's" Taraji P. Henson Apologizes to Police After Racial Profiling Accusati
Chuck Hodes/FOX(LOS ANGELES) — Taraji P. Henson, who plays Cookie Lyon on the hit TV series Empire, has apologized after accusing police in Glendale, California, of racially profiling her 20-year-old son, Marcel, during a traffic stop."I would like
Hugh Jackman Hints He's Giving Up Wolverine Role
Fox(NEW YORK) — Hugh Jackman may be hanging up his claws for good.The Australian actor is set to star in a third Wolverine film that will be released in 2017. Jackman hinted over the weekend that he may retire from the mutant role after that.Jackman
Report: Harrison Ford Released from Hospital
Fernando Leon/Getty Images(LOS ANGELES) — Harrison Ford reportedly has been released from the hospital following his plane crash earlier this month.A source tells People magazine that the 72-year-old Star Wars and Indiana Jones actor was seen drivin
"Home" Smashes Expectations at Weekend Box Office
Fox(NEW YORK) -- In the battle between R-rated comedy and animation at the box office over the weekend, there was a clear winner. Home, the animated alien adventure featuring the voices of Jim Parsons and Rihanna, won the weekend and smashed expectations.
Angelina Jolie Makes First Post-Surgery Appearance
Photo by Tommaso Boddi/WireImage(LOS ANGELES) -- Angelina Jolie made her first appearance post-surgery when she attended the Kids' Choice Awards with two of her children on Saturday night. The actress brought her daughters Shiloh and Zahara to the awards
Peter Dinklage Accidentally Reveals Major "Game of Thrones" Spoiler
HBO(NEW YORK) -- It's got to be hard to keep things to yourself when you are part of a super secret show like Game of Thrones. And Peter Dinklage learned this recently when he leaked a big bit of show information, but not on purpose. During an interview w
Bruce Jenner Breaks Down Because Kris Replaced Him in Living Will
Photo by Frederick M. Brown/Getty Images(NEW YORK) -- It seemed hard for Bruce Jenner, 65, to hear that, after he and Kris Jenner got divorced, she replaced him as executor of her living will. In a teaser clip for Sunday's episode of Keeping Up with the K
Five Things to Know About Taylor Swift's Rumored New Beau Calvin Harris
Photo by Frazer Harrison/Getty Images via ABC(NEW YORK) -- Taylor Swift has been spending time with producer Calvin Harris recently, leading some to speculate as to whether they're dating. So far, Swift, 25, has remained mum on the subject, while her publ
"Mad Men" Donates Its Iconic Style to the Smithsonian
Michael Yarish/AMC(NEW YORK) -- Cigarettes and hard liquor may not be what immediately springs to mind at the Smithsonian's National Museum of American History, but that is exactly what was unveiled Friday in homage to the massively popular television ser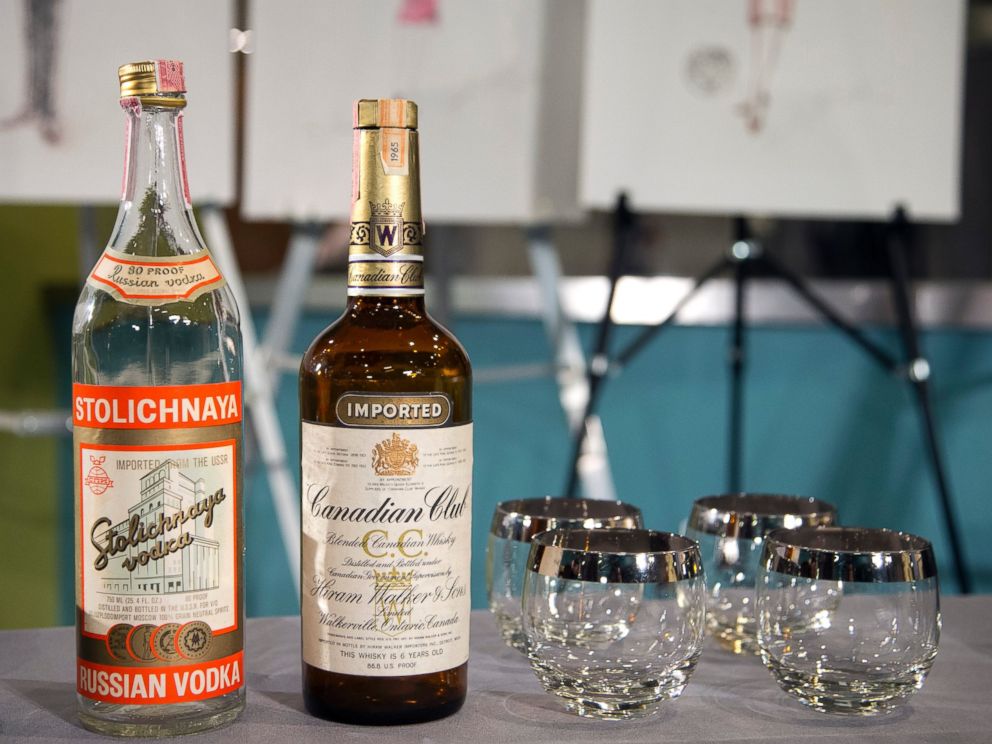 Two Stars Affected by New York City Building Collapse
Kevin Winter/Getty Images/Craig Sjodin/ABC(NEW YORK) — Drea de Matteo, who played Adriana La Cerva on The Sopranos, was among the dozens of people who lost their homes after an apartment building explosion led to a seven-alarm fire in
"Mad Men's" John Slattery Says He Turned Down "Empire" Role
Michael Yarish/AMC(NEW YORK) — How would Roger Sterling fit in the world of hip-hop music? We may never find out.The actor who plays Roger on AMC's Mad Men, John Slattery, says he was offered a role on the Fox hit Empire. Empire was co-created by Da
Molly Sims Welcomes Second Child, Daughter Scarlett May
Jason Kempin/Getty Images(LOS ANGELES) -- Molly Sims became a mom for the second time on Wednesday.The 41-year-old actress and her husband, Ted producer Scott Stuber, announced the news in an Instagram post the following day."We welcome Scarlett May Stube
"Fancy Nancy" Optioned by Disney Junior for 2017
Jane OConnor and Robin Preiss Glasser/Harper Collins(NEW YORK) -- Fancy Nancy is coming to the small screen.The book series has been optioned by Disney Junior for development of an original animated series and TV movie slated for 2017, the network and pub
"Home" and "Get Hard" Open Nationwide Friday
"Home" - Fox(NEW YORK) — Here's a look at the new movies opening nationwide Friday:Home -- An alien race takes over the Earth, but one girl eludes the visitors and befriends a fugitive alien named Oh. Jim Parsons, Rihanna, Steve Martin and Jen
Benedict Cumberbatch Reads Poem at Reburial of Richard the Third
ABC/Rick Rowell(LEICESTER, England) — Benedict Cumberbatch portrays the late British monarch Richard the Third in a new BBC drama, and is also a distant relative, so it was fitting that he read a poem Thursday at the reinterment of the king whose re